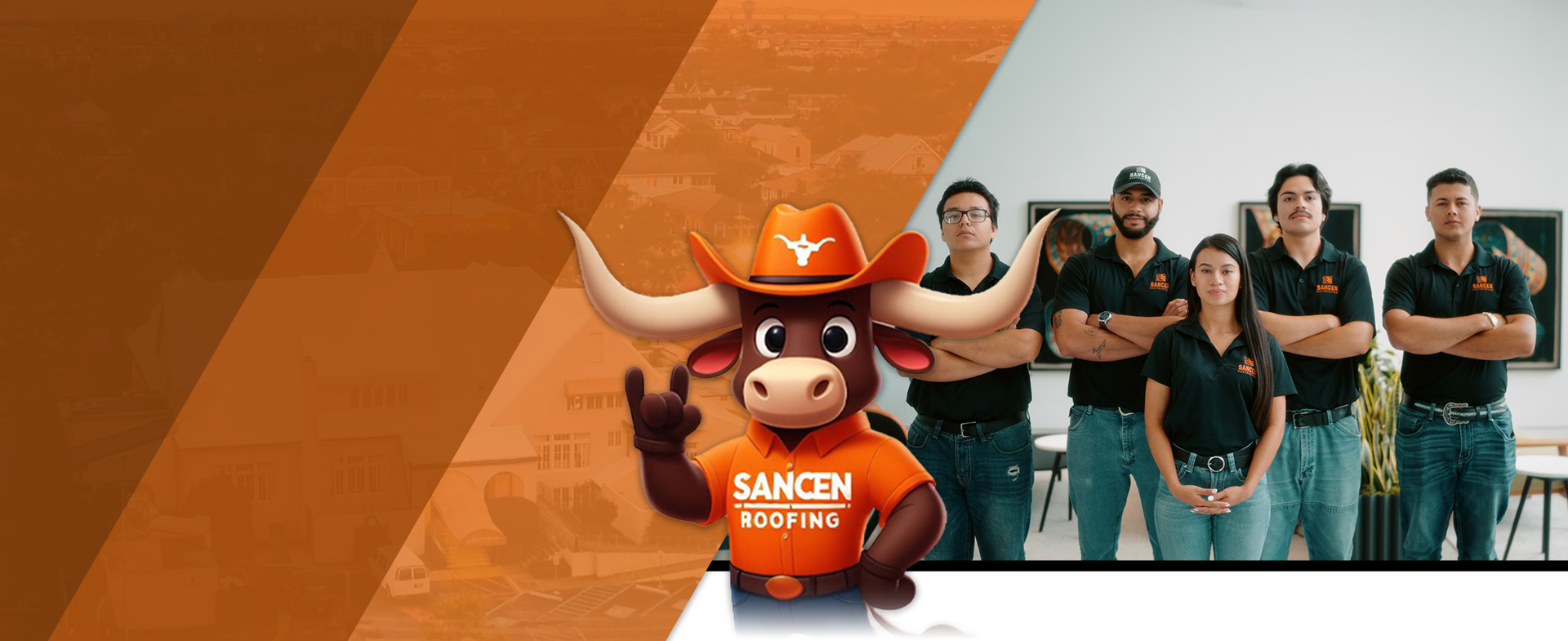 Sancen Roofing
Roofing Is Our Heritage, Quality Is Our Tradition
Serving Plano, TX Since 2006 Why Choose Sancen Roofing?
Woman & Family Owned

Giving you a sense of comfort like you're part of the family.

We're a Spanish-Speaking Team

Work with a roofer who speaks your language.

Licensed & Insured

We make it easy for you to have confidence in the team you call.

Get a 100% Free Estimate

Talk to our roofing team today during a free estimate.

Ask About Our Warranty

We back all of our services with a warranty for your peace of mind.

Available for Emergency Help

Roofing emergencies can't wait. Call for immediate help.
Plano, TX Roofers
Insured Residential and Commercial Roofers Serving Plano, Garland, Grand Prairie, Irving, and Arlington
At Sancen Roofing, we bring more than just impeccable roof installation and repair services to your doorstep. We bring a family-owned enterprise backed by a woman entrepreneur's vision and a legacy of over 15 years in the industry. Rooted in Plano, TX, we extend our expertise to Garland, Grand Prairie, Irving, Arlington, and the surrounding areas, helping to create safe and secure roofs for all kinds of customers all over the Lone Star state.
What truly sets us apart is more than just a comprehensive suite of roofing solutions. It's our cornerstone commitment to understanding and resolving your unique challenges. We believe in not just providing services but in ensuring that your voice is heard and your needs are met. From offering free estimates and ensuring we're fully insured to accommodating same-day and emergency service requests whenever feasible, we're here to do whatever we can to put your mind at ease. We're not just your roofing experts; we're your partners in creating a sturdy, comfortable, and durable home.
Request your free estimate from our Plano roofers by calling (469) 489-5220 today!
Comprehensive Roofing and Renovation Services
We take pride in our ability to serve a broad spectrum of customers, from residential homeowners to commercial businesses. For homeowners, we repair, maintain, and install multiple types of high-quality roofs and make sure that those roofs are complimented by highly functional gutters. For commercial customers, we provide robust roofing solutions designed to withstand the rigors of commercial use, contributing to your business's safety and aesthetic appeal.
But our services go beyond just roofing. We also provide comprehensive renovation services to enhance the value, functionality, and beauty of your property. From remodels and expansions to updates and improvements, we're committed to transforming your vision into reality. At Sancen Roofing, we strive to exceed your expectations, offering reliable, personable service from start to finish.
Hear From Our Happy Customers
"The Absolute Best!"

Kay L.

"No Other Roofing Company!"

Maria M.

"Extremely Satisfied with Sancen Roofing!"

B Z.
We Solve the Problems that Matter to You
At Sancen Roofing, we believe in the power of listening. We prioritize understanding your specific needs and concerns to offer solutions that truly address the issues you're dealing with. To us, you're not just another job ticket— you're a valued customer with unique roofing and renovation needs. We take the time to listen to your ideas, your worries, and your aspirations for your property.
We're committed to resolving your concerns professionally, effectively, and promptly. Our experienced team applies its extensive industry knowledge to identify the root cause of your roofing problems and propose effective solutions. And we make sure we share that knowledge with you, giving you the education you need to recognize issues and make informed decisions.
Ready to get your roofing problems solved? Call Sancen Roofing in Plano at (469) 489-5220 to request a free estimate or same-day service appointment!
Meet the Team Behind Sancen Roofing
Samuel Claudio Project Manager

Karina Herra Sales Team Leader

Diego Luca Admin

Shani Sales Representative