Plano Renovation Services
Home Remodeling and Renovation Services Available in Plano, Garland, Grand Prairie, Irving, and Arlington
At Sancen Roofing, we believe that every property holds untapped potential, waiting to be unveiled by the right renovation project. Our home remodeling and renovation services are expertly designed to bring your vision to life, whether you're looking to revamp a cozy family home in Plano, a bustling business in Garland, a charming property in Grand Prairie, or an innovative space in Irving and Arlington.
We're not just roofers; we're dream builders. Each project is a personal journey for us, guided by your dreams and our expertise. Our team of skilled professionals has been armed with a blend of creativity, craftsmanship, and commitment so that every renovation project we undertake can be a perfect balance of aesthetics, functionality, and quality.
Our renovation services extend beyond just sprucing up your property. They're about creating spaces that reflect your personality, cater to your lifestyle, and enhance the value of your property. Let's embark on this transformation journey together, transforming your house into a home or your commercial space into a beacon of your brand.
Ready to renovate your home? Call our Plano renovation professionals at (469) 489-5220 today to request a free estimate!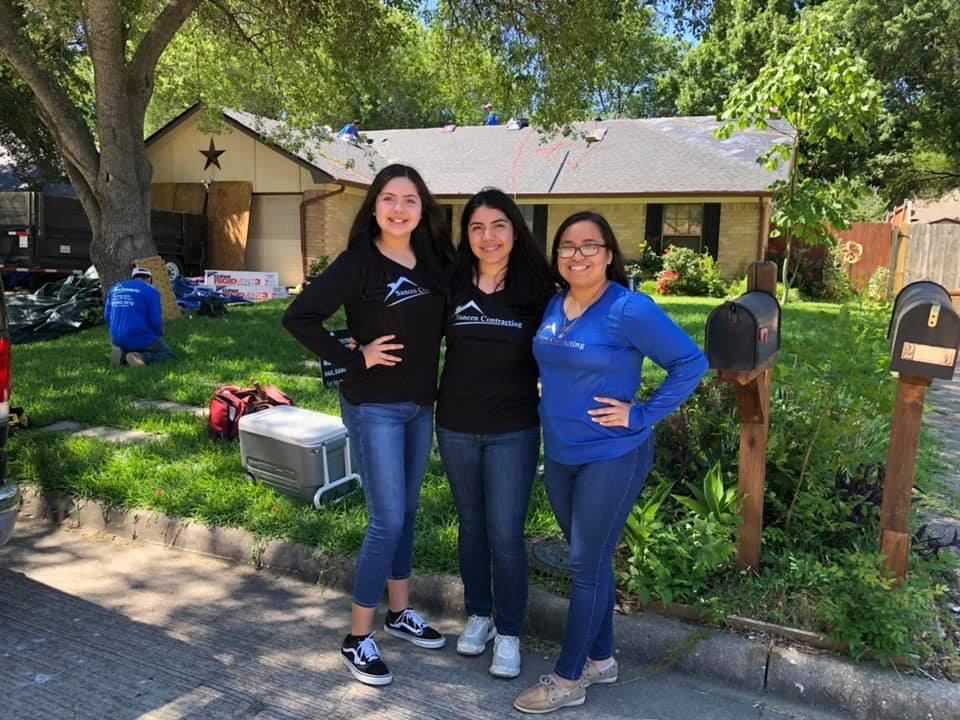 Is Your Home Due for an Upgrade?
As time passes, your needs and wants may change – and that might mean that your home needs to change with them. Whether it's for form or function, there are a multitude of reasons why you may want to renovate or remodel your home.
You may want to renovate your home if:
Your family is growing: Maybe you're expecting a new child, or perhaps you have aging parents moving in. A renovation can give you the extra space you need.
Your lifestyle has changed: As your life changes, so does how you use your home. If you've taken up a new hobby or started working from home, you might want to consider renovating to make your home more suitable for your current lifestyle.
You want to increase your home's value: Even relatively small home improvements, such as a kitchen or bathroom remodel, can significantly increase the value of your property.
Your home feels outdated: If you've been living in your house for a while, styles and trends have likely changed. A renovation can help your home feel modern and fresh.
You want to improve your home's energy efficiency: Updating your home with energy-efficient appliances or improving your home's insulation can lead to significant savings on your monthly utility bills.
If any of these circumstances resonate with you, it might be time to consider a renovation. At Sancen Roofing, we're more than happy to help you explore your options and find the best solution for your unique needs.
Ready to explore your renovation options? Call our Plano office at (469) 489-5220 to consult with Sancen Roofing's renovation experts! Hear From Our Happy Customers
At Sancen Roofing, your satisfaction is our priority! See for yourself what our customers have to say about working with us.
"The Absolute Best!"

If you want someone that is on your side, that will take care of you and your home, that will guide you through the insurance process.

- Kay L.

"No Other Roofing Company!"

They made my claim an easy process and on installation day they were in and out and cleaned very good as if they were not there!

- Maria M.

"Extremely Satisfied with Sancen Roofing!"

Highly recommend finally meet a contractor who's here to help and not take advantage!!!!! super satisfied!!!!!!

- B Z.

"Extremely Professional!"

Very efficient and super clean leaving my home in tip-top shape with a gorgeous roof installed.

- Roland C.
We Want to Make Your Vision a Reality
At Sancen Roofing, we believe each renovation project is a unique journey guided by your dreams and aspirations. Whether you envision a modern kitchen, a spacious living room, or a cozy attic conversion, we make it our mission to turn your dream home into a reality. We understand that a successful renovation project is more than just bricks and mortar; it's about creating spaces that resonate with your personality, enhance your lifestyle, and become a sanctuary for you and your loved ones.
We're committed to putting your needs at the forefront of our operations. From the initial consultation to the completion of the project, we strive to ensure that your voice is heard, your ideas are respected, and your expectations are exceeded. Our team works closely with you, understanding your goals, desires, and concerns so that our renovation solutions can align perfectly with your vision.
It's not just about constructing walls, replacing roofs, and installing fixtures; it's about building trust and establishing long-lasting relationships with our customers. We strive to create an enjoyable and stress-free renovation experience, offering professional advice, maintaining open communication, and delivering timely, quality results.
Talk to us about your renovation goals – call (469) 489-5220 or reach out to us online to share your vision for your Plano, Garland, Grand Prairie, Irving, or Arlington home!
Woman & Family Owned

Giving you a sense of comfort like you're part of the family.

We're a Spanish-Speaking Team

Work with a roofer who speaks your language.

Licensed & Insured

We make it easy for you to have confidence in the team you call.

Get a 100% Free Estimate

Talk to our roofing team today during a free estimate.

Ask About Our Warranty

We back all of our services with a warranty for your peace of mind.

Available for Emergency Help

Roofing emergencies can't wait. Call for immediate help.