Plano Solar Panel Consultations
Helping Customers in Plano, Garland, Grand Prairie, Irving, and Arlington Learn About Their Solar Energy Options
Solar energy is more than just a trend; it's a sustainable solution for businesses and homeowners seeking to reduce their environmental footprint and save on energy costs. At Sancen Roofing, we're passionate about helping our customers in Plano, Garland, Grand Prairie, Irving, Arlington, and the surrounding areas navigate the world of solar energy. We offer comprehensive solar panel consultations to help you understand your options and learn how solar products can meet your unique needs and goals.
Our team of experts will guide you through the process, analyzing the feasibility of solar installation for your property, estimating potential energy savings, and outlining the various solar panel options available. We're here to demystify solar energy and help you make an informed decision. With Sancen Roofing, going green is easier than ever.
Whether you're a business owner seeking to boost your corporate sustainability or a homeowner looking to cut down on electricity costs, our solar panel consultation services are designed with you in mind. Trust us to illuminate your path to a brighter, greener future.
If you're interested in installing solar panels, call our Plano team at (469) 489-5220 to request a consultation!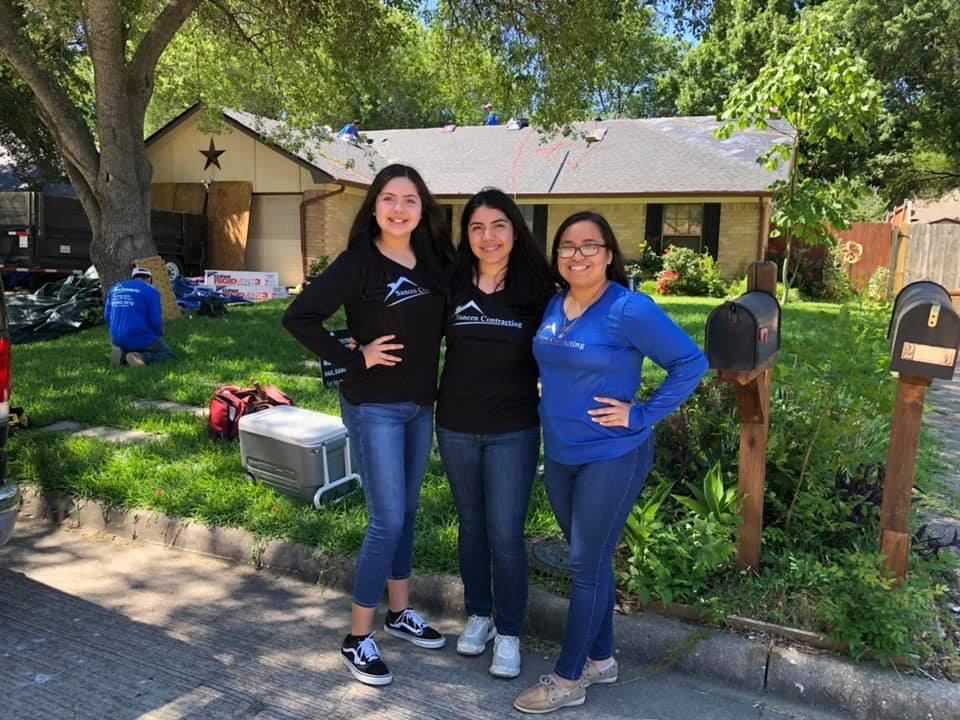 Are Solar Panels a Good Fit for Your Roof?
Deciding whether solar panels are a good fit for your roof involves various considerations, and our team at Sancen Roofing is here to guide you through these factors during our comprehensive solar panel consultations.
Our solar panel consultation process takes into account:
The age and condition of your roof: Solar panel installations require a sturdy and sound roof. If your roof is nearing the end of its lifespan or needs significant repairs, it may be necessary to address these issues before installing solar panels.
Roof size and orientation: The size and orientation of your roof impact the amount of sunlight your solar panels can capture. Ideally, a south-facing roof with ample space is best for optimal solar energy generation.
Shading: Buildings, trees, or other structures that cast a shadow over your roof can affect the performance of solar panels. During our consultation, we assess the level of shading to determine the viability of a solar installation.
The local climate: Your geographical location and typical weather conditions also affect how effectively your solar panels can produce energy. Areas with more sunny days provide ideal conditions for solar energy production.
Energy consumption: We'll also examine your property's energy usage to determine how much electricity you could offset with solar power. This will give you a clearer picture of potential savings and the size of the solar panel system you may need.
By evaluating these key factors, we can provide a detailed and personalized assessment of whether solar panels are a good fit for your property. We aim to help you make an informed decision that meets your energy and sustainability goals.
Sancen Roofing is ready to evaluate your solar potential, inspect your existing roof, and help you find a path towards sustainability – call (469) 489-5220 to request same-day service in Plano, Garland, Grand Prairie, Irving, or Arlington! Hear From Our Happy Customers
At Sancen Roofing, your satisfaction is our priority! See for yourself what our customers have to say about working with us.
"The Absolute Best!"

If you want someone that is on your side, that will take care of you and your home, that will guide you through the insurance process.

- Kay L.

"No Other Roofing Company!"

They made my claim an easy process and on installation day they were in and out and cleaned very good as if they were not there!

- Maria M.

"Extremely Satisfied with Sancen Roofing!"

Highly recommend finally meet a contractor who's here to help and not take advantage!!!!! super satisfied!!!!!!

- B Z.

"Extremely Professional!"

Very efficient and super clean leaving my home in tip-top shape with a gorgeous roof installed.

- Roland C.
We Want to Help You Enjoy All the Benefits that Solar Energy Has to Offer
Solar panels are a remarkable investment, offering an array of advantages that go beyond merely reducing your carbon footprint.
Solar panels can help you reap benefits like:
Reduced energy bills: Solar panels generate their own power, significantly lowering your monthly electricity bills. Over time, these savings can offset the initial installation costs.
Tax credits and rebates: You could be eligible for state and federal incentives such as tax credits, rebates, or grants, which can help to subsidize the cost of installing solar panels.
An increased property value: Homes equipped with solar energy systems often attract higher property values and sell quicker than non-solar homes.
Protection from rising energy costs: By generating your own energy, you can shield yourself from unpredictable increases in electricity costs.
Energy independence: Solar energy reduces reliance on fossil fuels, moving you towards more resilient, self-sufficient energy systems.
Environmental protection: Solar panels produce clean, green energy, reducing greenhouse gas emissions and combatting climate change.
By leveraging solar power, you're investing in a sustainable future while enjoying immediate benefits that make a real impact on your wallet and the wider world.
Let Sancen Roofing show you what solar energy can bring to your life – call (469) 489-5220 or reach out to us online to request a solar panel consultation from our Plano team!
Woman & Family Owned

Giving you a sense of comfort like you're part of the family.

We're a Spanish-Speaking Team

Work with a roofer who speaks your language.

Licensed & Insured

We make it easy for you to have confidence in the team you call.

Get a 100% Free Estimate

Talk to our roofing team today during a free estimate.

Ask About Our Warranty

We back all of our services with a warranty for your peace of mind.

Available for Emergency Help

Roofing emergencies can't wait. Call for immediate help.